Unleash your inner Viking!
Immerse yourself in a world of fearless Vikings and frothy mugs of beer and win!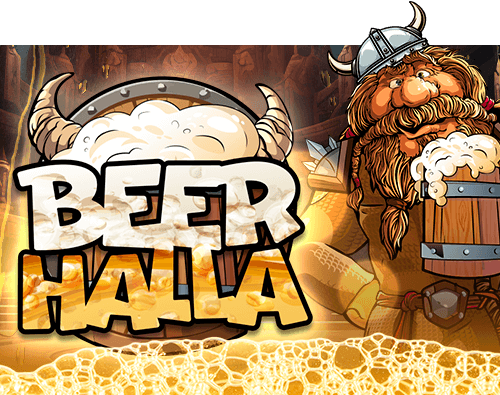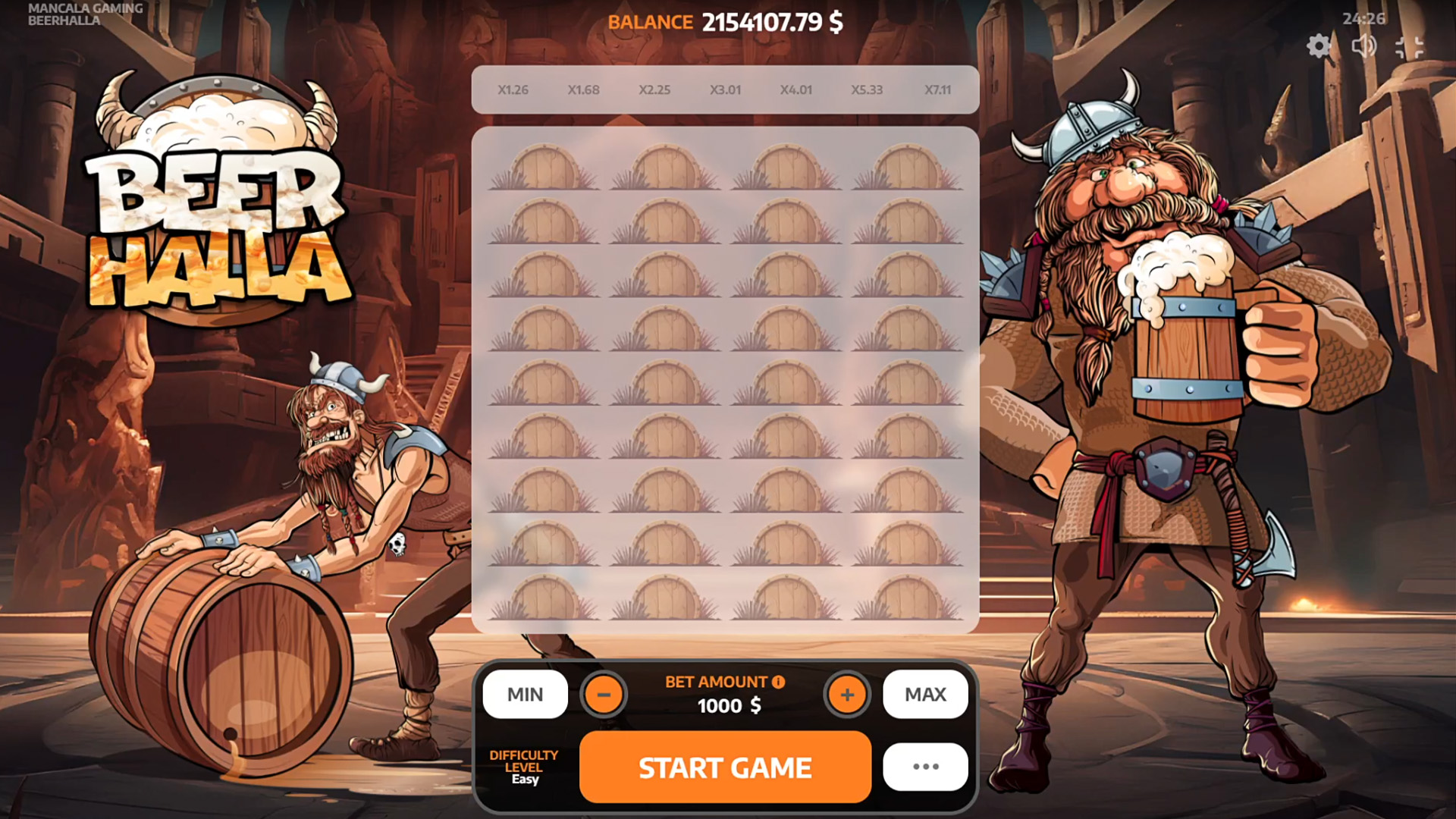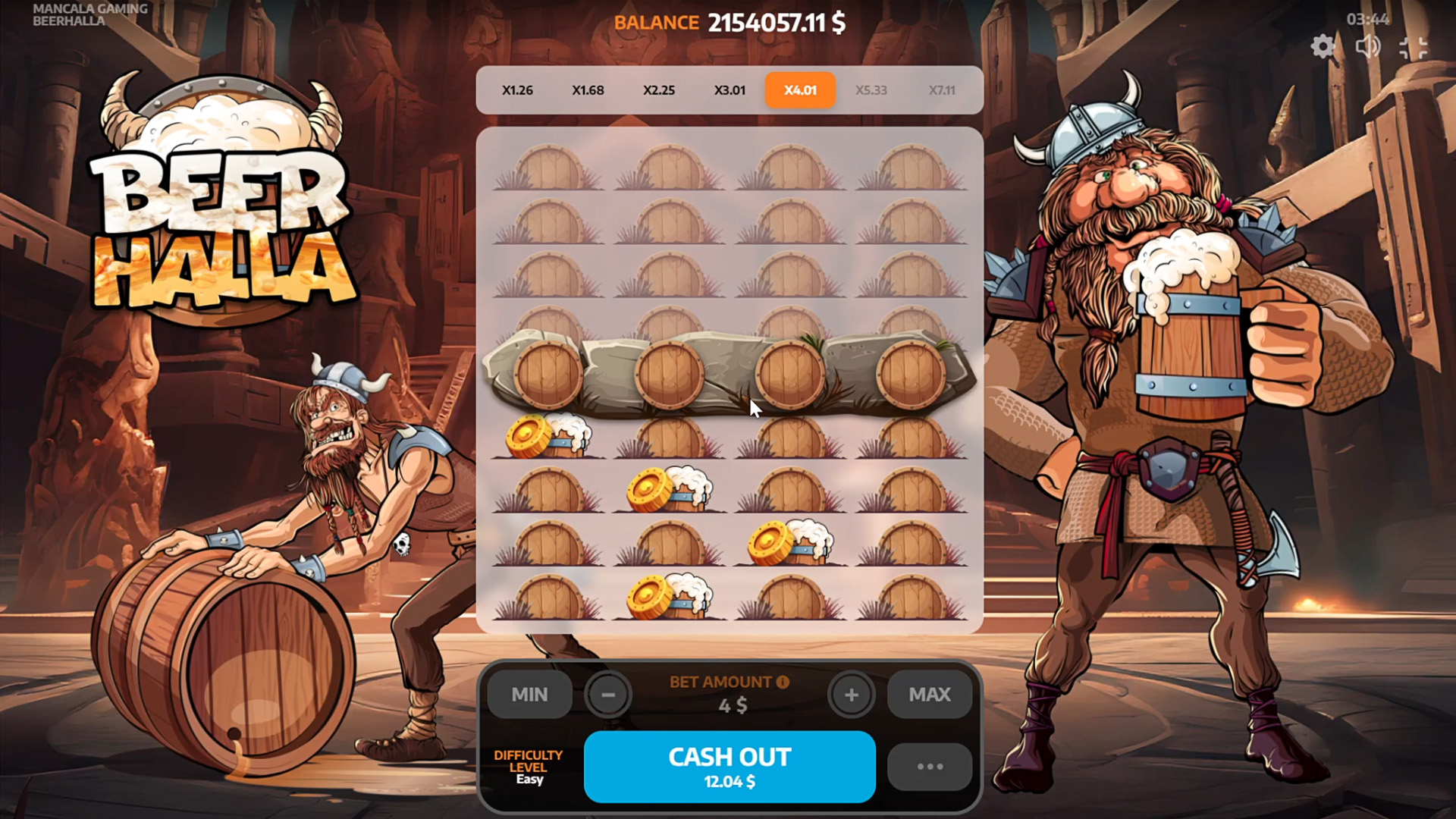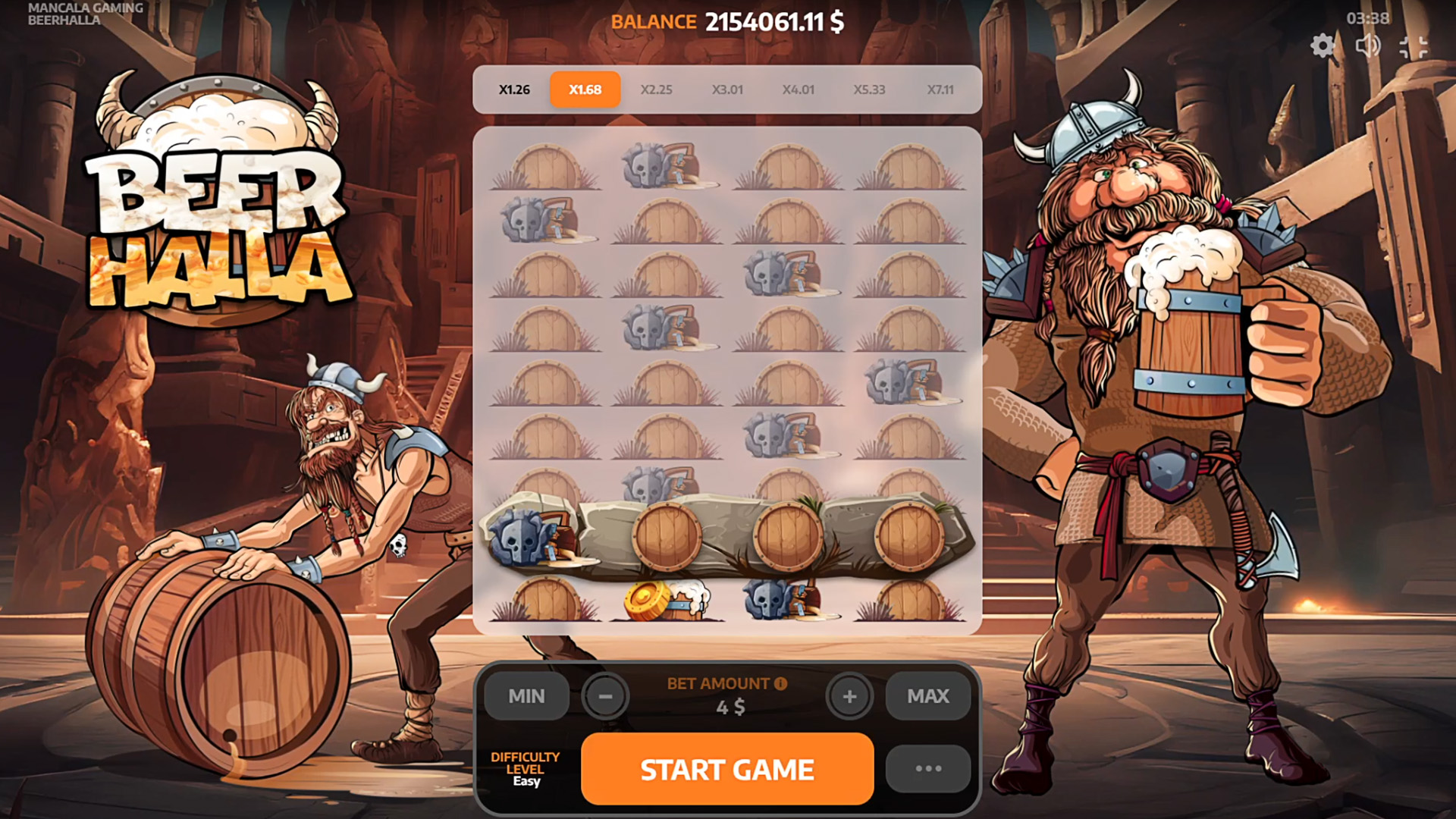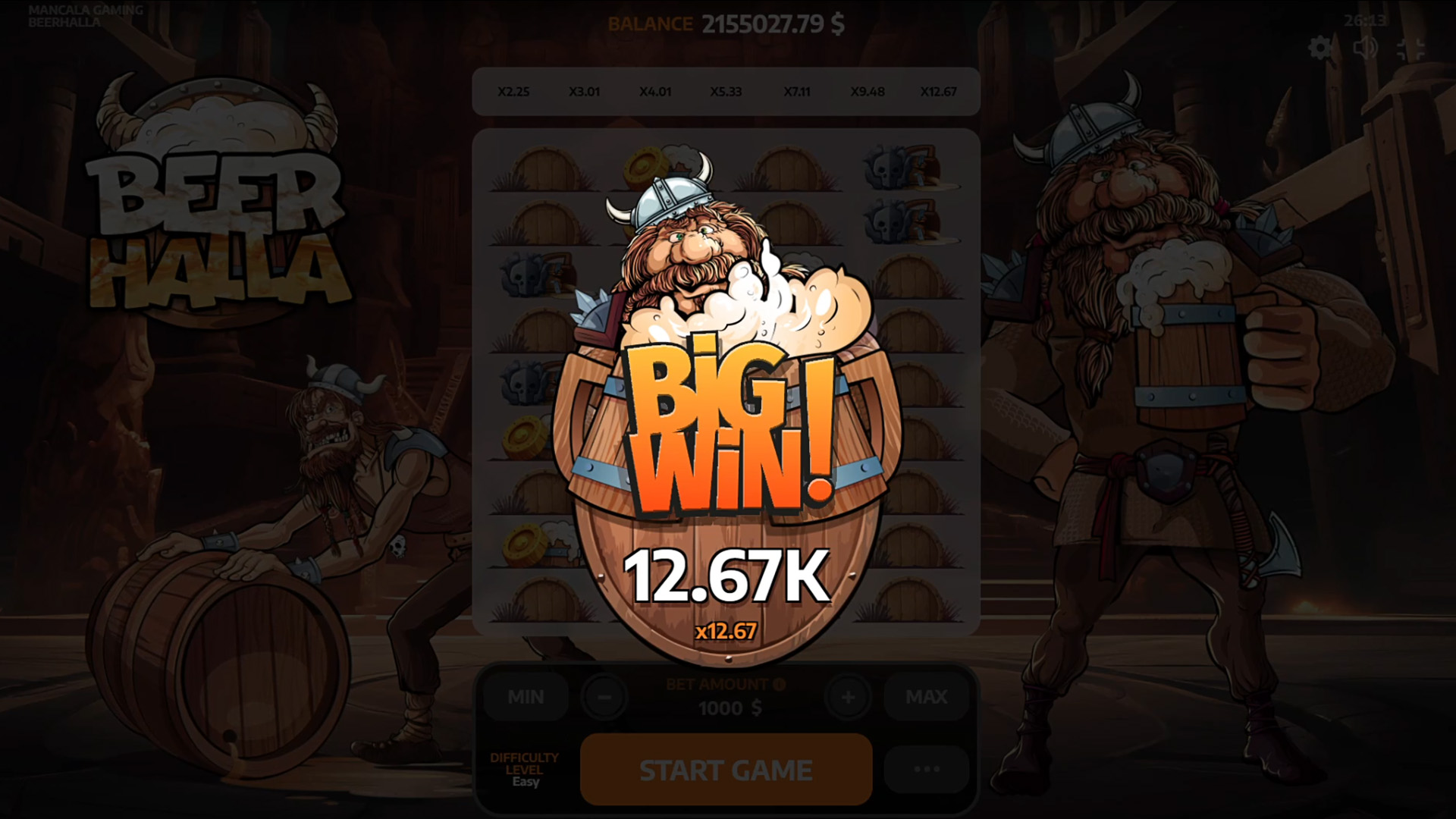 X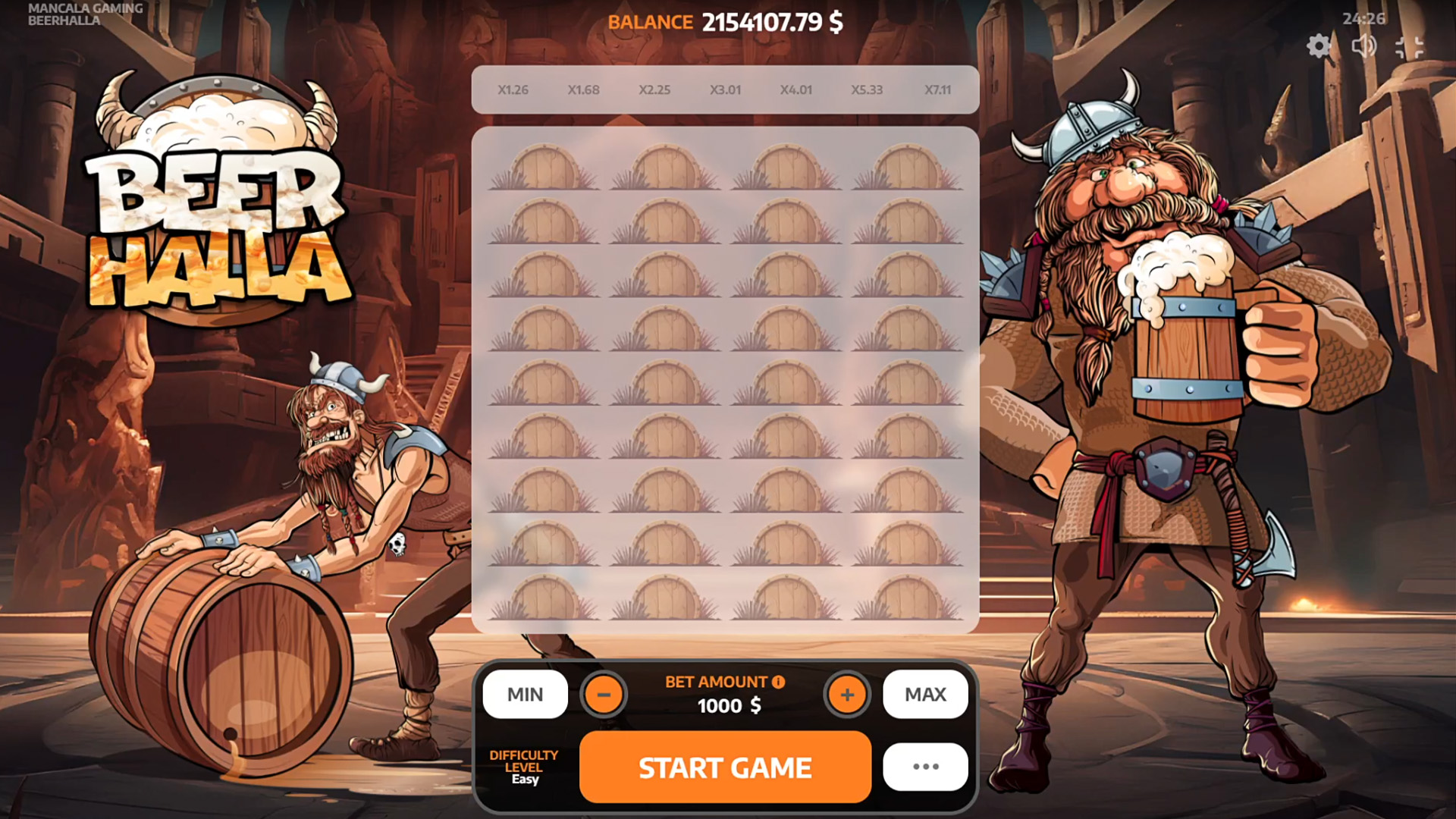 BEERHALLA
Welcome, brave adventurer, to a Viking adventure like no other! Prepare to immerse yourself in the rich tapestry of Viking lore, where frothy mugs of beer are as plentiful as the challenges that await you.
It's time to test your luck against the odds, take risks, and make strategic bets to uncover great riches beneath the game board's surface. Navigate through each level with cunning and precision, avoiding the foreboding red crosses and skulls that stand as symbols of misfortune.
But fear not, for the path to glory is paved with overflowing beer glasses, each one representing a step closer to victory. With every successfully cleared row, your winnings multiply, bringing you closer to legendary status.
Will you rise as a true Viking champion, conquering the challenges that lie ahead with a hearty swig of ale in hand, or will you fall victim to the treacherous symbols of fate? Your destiny awaits – venture forth, make your choices wisely, and become a legend in this epic Viking-themed adventure!
How to Play:
Make a bet, choose the number of barrels, and start the game.

Click on the tiles to ascend higher.

Once you reach your desired result, click "Cash Out" to collect your winnings.
Game rules:
Enter a valid amount in the "Amount" field to determine your bet.
Choose the difficulty level from five options available:
Easy: 3 out of 4 barrels are safe
Medium: 2 out of 3 barrels are safe
Hard: 1 out of 2 barrel is safe
Extreme: 1 out of 3 barrels is safe
Nightmare: 1 out of 4 barrels is safe
Once you've made your selections, click "Start Game" to commence the action.
Gameplay:
Your objective is to uncover beer mugs while avoiding the sculls. Look for the beer mugs to progress to the next row. Each successfully cleared row will increase your winning amount. Be cautious though, as hitting a scull will result in losing your bet. Make your choices wisely!
Cashout:
After successfully passing one or more levels, you have the option to press "Cash out" and claim your well-deserved reward. If you manage to complete all levels, the cashout will be triggered automatically.
Cancel:
You can cancel your bet only if you haven't opened any barrels yet. Choose this option if you want to change your strategy or try a different approach.
Settings:
To access the settings menu, click on the gear icon located in the top right corner of the screen. In the settings, you can perform the following actions:
Change your nickname
View bet limits, including the minimum bet, maximum bet, and maximum profit
Toggle sounds and animations on or off according to your preference
Bets History:
At the bottom of each Turbo game, you'll find a panel with essential information, including:
"All bets": Recent games played by users
"Top bets": Recent winning bets with multipliers above x10
"My bets": A list of your recent bets
Feel free to click on any bet to see further details and review your gaming history. Get ready for an exciting journey filled with strategic decisions and thrilling wins!
Number of lines selection:
No
MAX WIN(Based on 1 million games):
3010.24 x Bet
Platforms:
Mobile, Desktop, Tablet
Language:
POR, FIN, THA, ENG, VIE, CHI, SPA, SWE, RUS, ITA, JPN, GER, UKR, KOR
Game reviews
Coming soon ...
Subscribe
Do you want to keep up to date with the latest news from Mancala gaming? Sign up for our newsletter and never miss any big thing!