Avoid the mines, claim candies!
Partner up with a silly llama and discover the ultimate explosion of sweet rewards!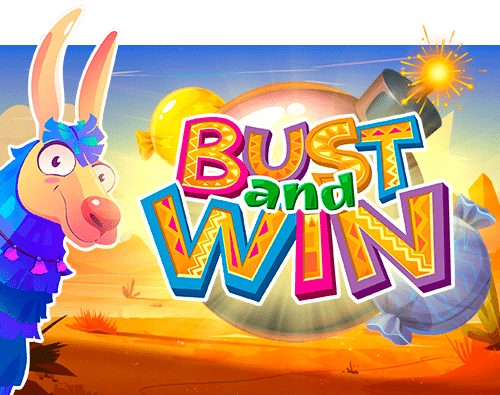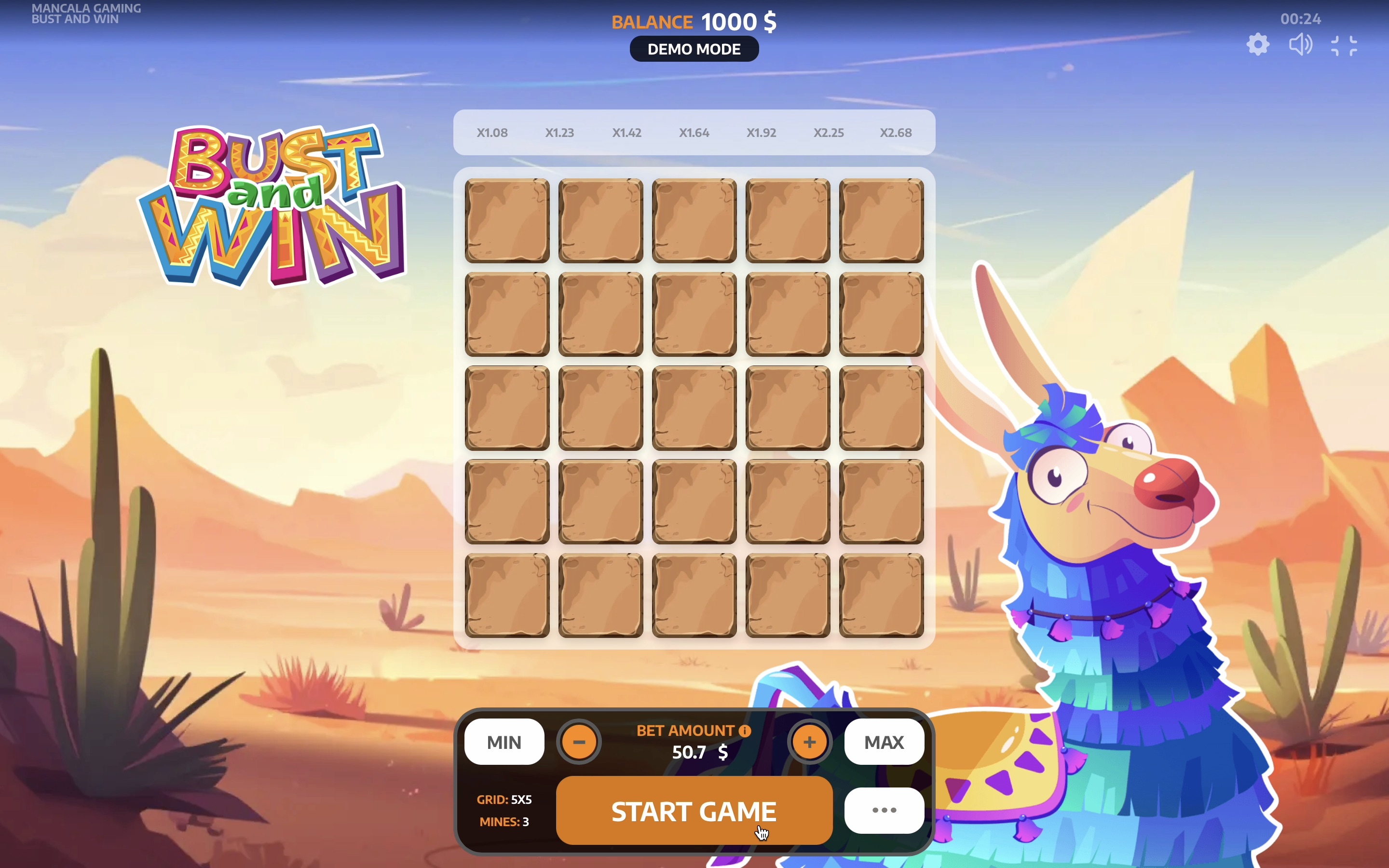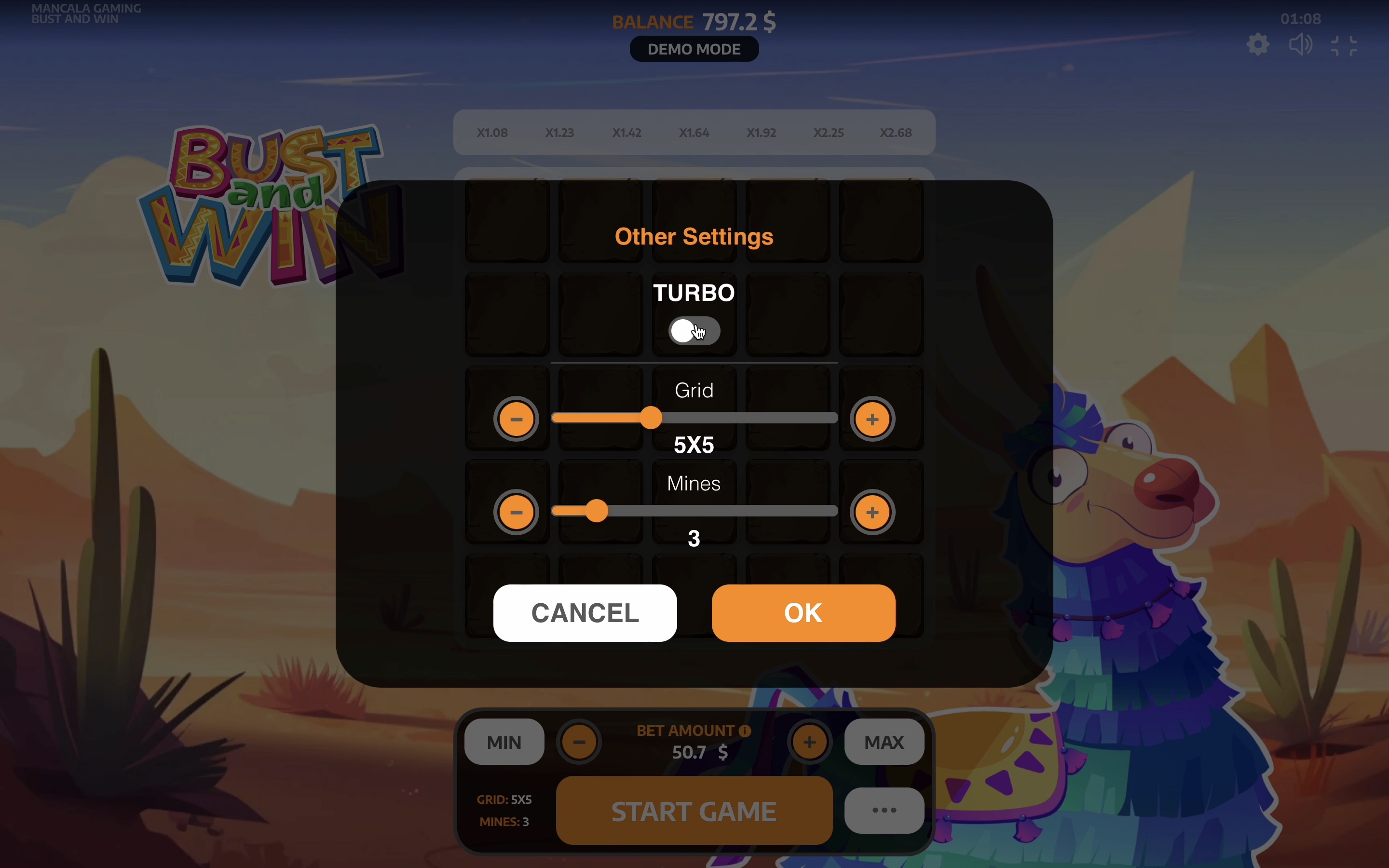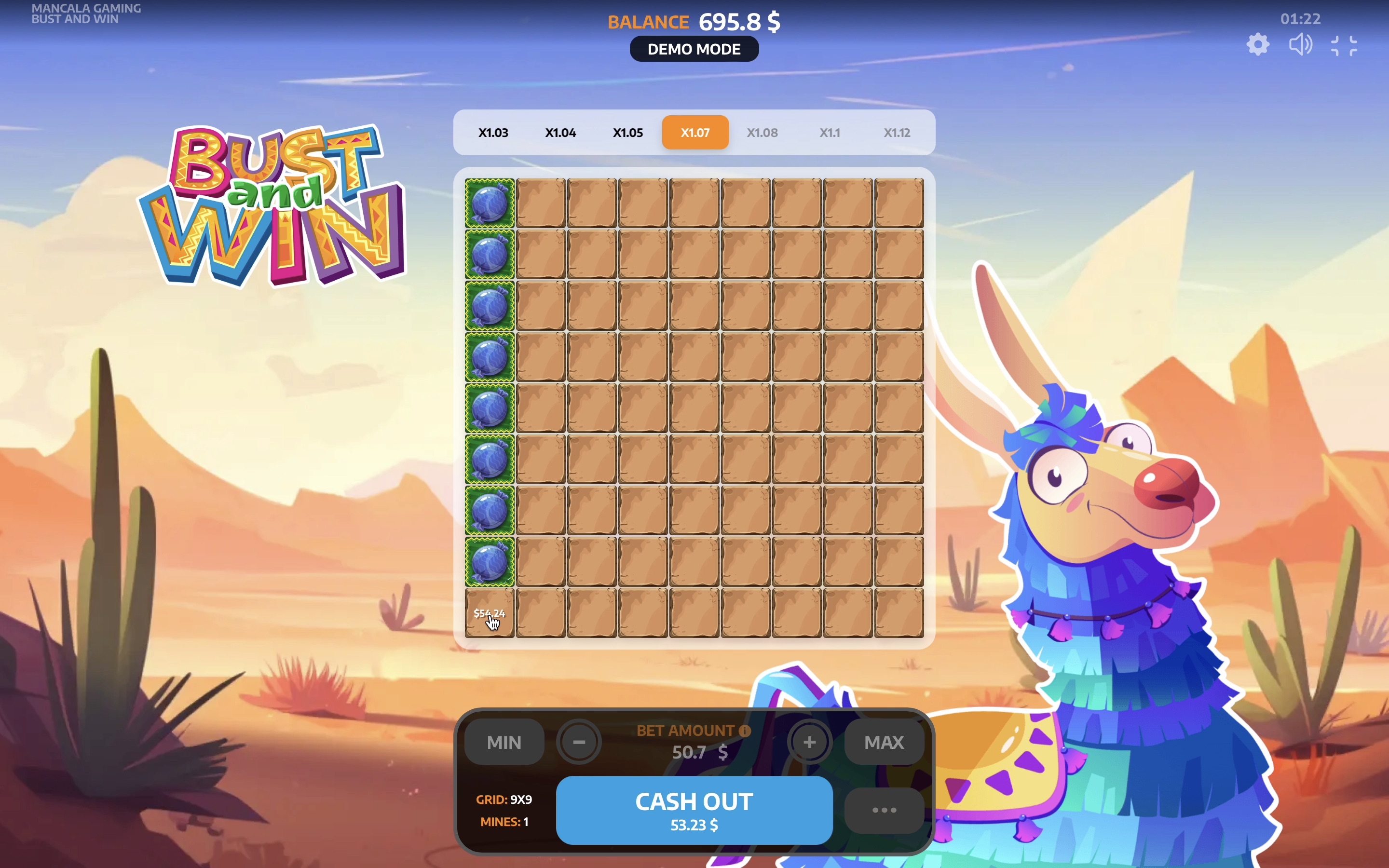 X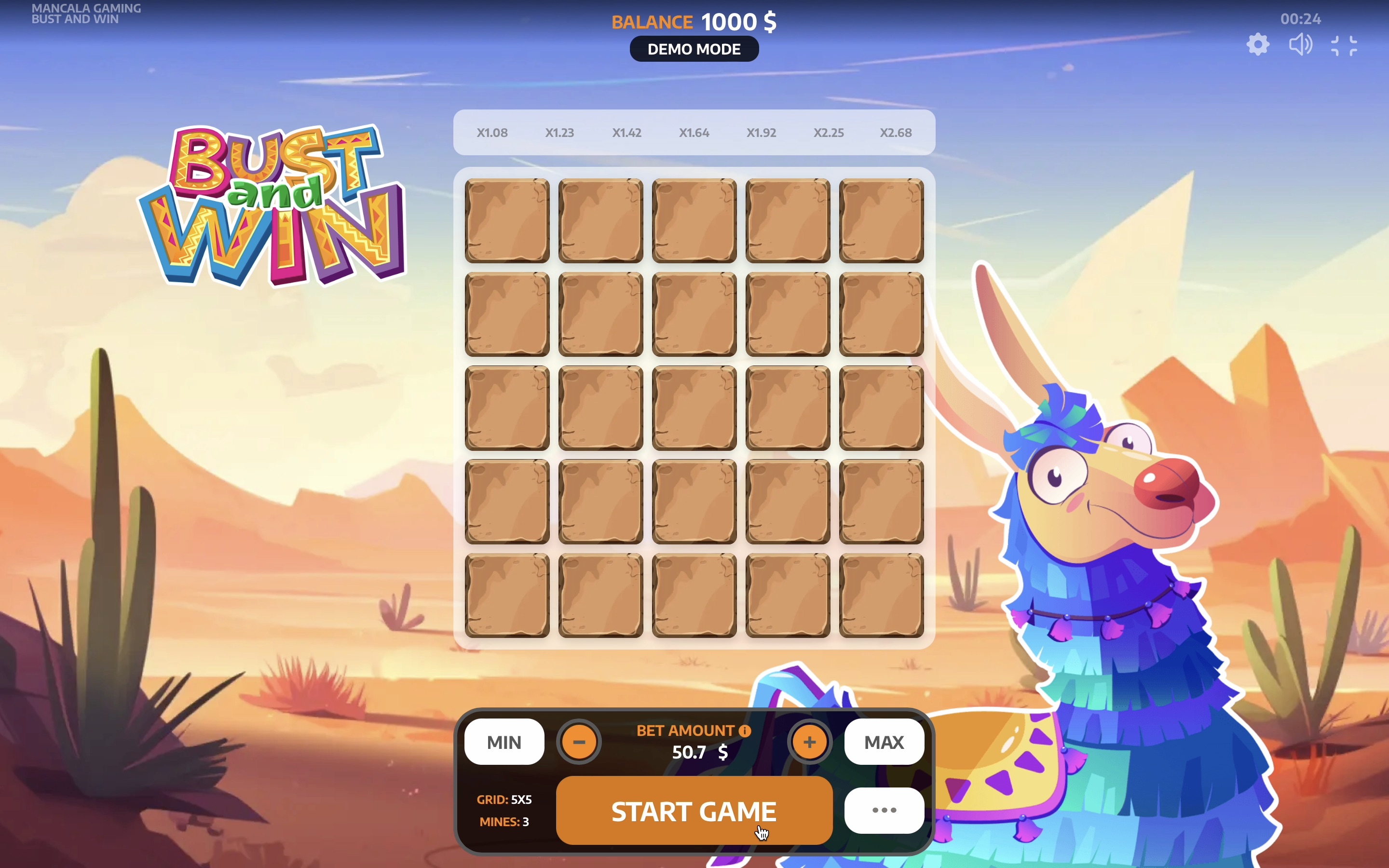 Bust and Win
Welcome to Bust and Win, a thrilling crash game set amidst the captivating desert landscape, where untold treasures and treacherous mines await your discovery. Uncover precious candies that promise riches beyond imagination, but tread carefully, for one misstep could trigger a destructive explosion!
Feel your heart race as you venture deeper into the desert, fueled by the exhilaration of potential wins. Alongside you are a trusty, silly llama companion, adding a touch of charm and fun to your journey.
Golden rays of the desert sun cast a glow upon your path, igniting your desire for a sweet victory. Will you play it safe and claim your hard-earned winnings, or will you take a daring leap for even greater rewards?
Are you ready to embrace the allure of the sweets and emerge victorious with a delicious reward? 
How to play
To initiate the game, select the desired number of mines and grid size, then click on "Start Game"
Unveil candies by clicking on the tiles.
To secure your reward, cash out before stumbling upon a mine.
Game Rules
Place bet
Place your bet by entering a valid amount in the "Bet Amount" field.
Select the size of the playing field and choose the number of mines. The more mines you include, the higher the winning multiplier will be, but the chances of hitting a mine also increase.
Once you're ready, press "Start Game."
Gameplay
During gameplay, each revealed candy will increase your winning amount. However, be cautious because hitting a mine will result in losing your bet. Choose your moves wisely!
Cash out
When you've discovered one or more candies, you can collect your reward by pressing "Cash out." If you've found all the candies, the cash-out will be triggered automatically.
Cancel
If you haven't opened any tiles yet, you have the option to cancel your bet.
Turbo Mode
To activate Turbo Mode, click on the "Turbo" toggle. In this mode, you can select the playing field size and pattern, then press "Place Bet" to instantly reveal all the selected tiles. Aim to find the hidden candies while avoiding the mines for a chance to win big.
Settings
To access the settings menu, click on the gear icon located in the top right corner of the screen. In the settings, you can change your nickname, view the minimum bet, maximum bet, and maximum profit limits, toggle sounds on or off, and review your betting history.
Number of lines selection:
No
MAX WIN(Based on 1 million games):
4950000 x Bet
Platforms:
Mobile, Desktop, Tablet
Language:
POR, FIN, THA, ENG, VIE, CHI, SPA, SWE, RUS, ITA, JPN, GER, UKR, KOR
Game reviews
Coming soon ...
Subscribe
Do you want to keep up to date with the latest news from Mancala gaming? Sign up for our newsletter and never miss any big thing!