Every apocalypse needs a winner!
Join Ember Fischer's Savers, fight the zombie horde, and uncover Mancala's secrets.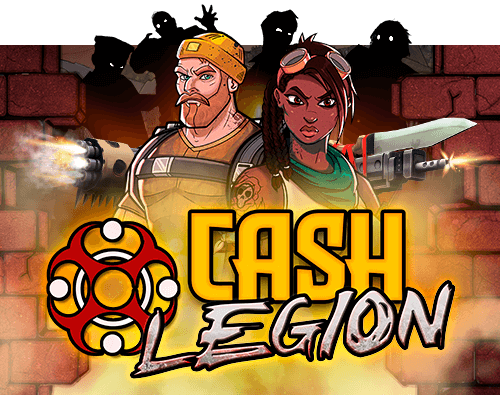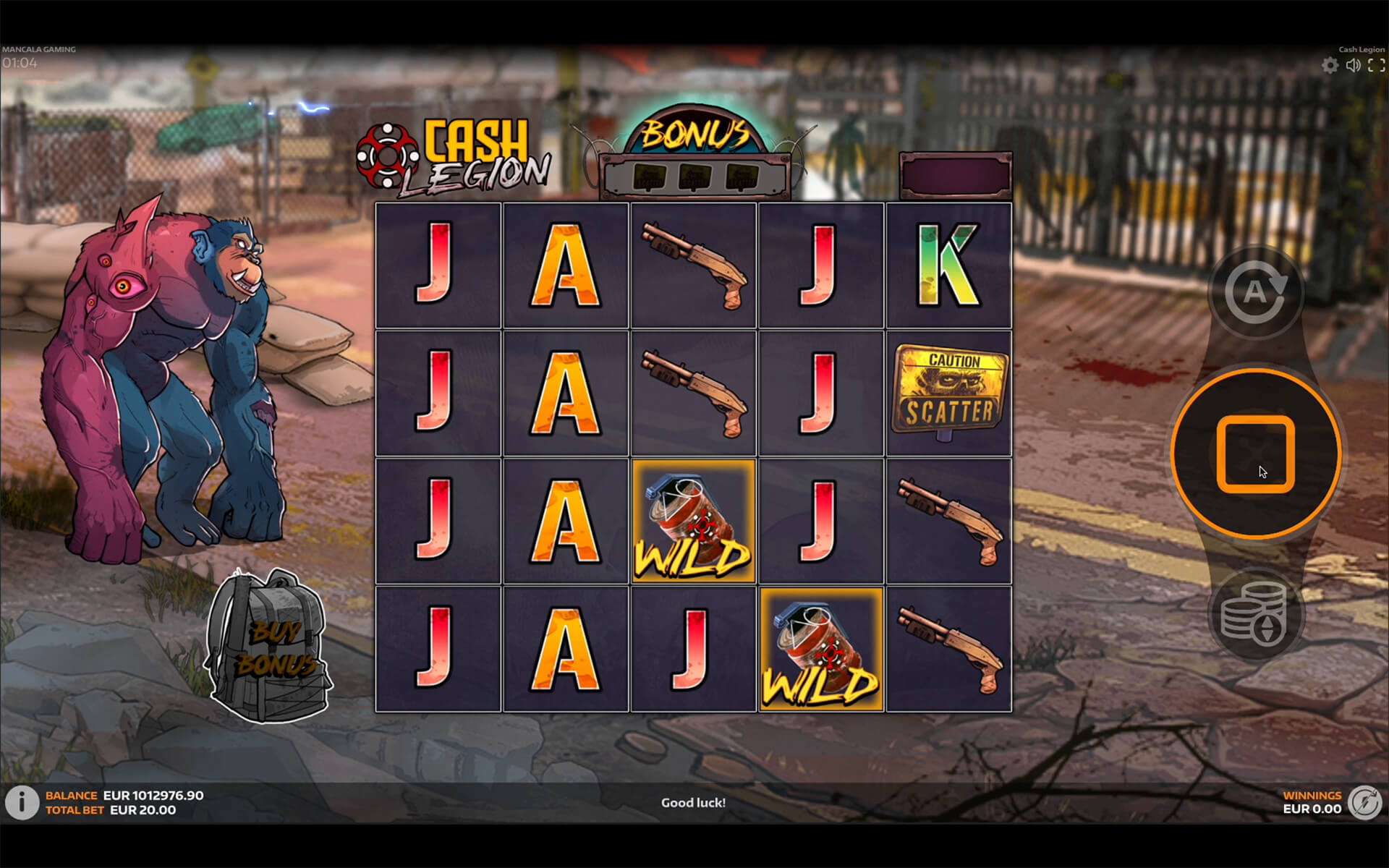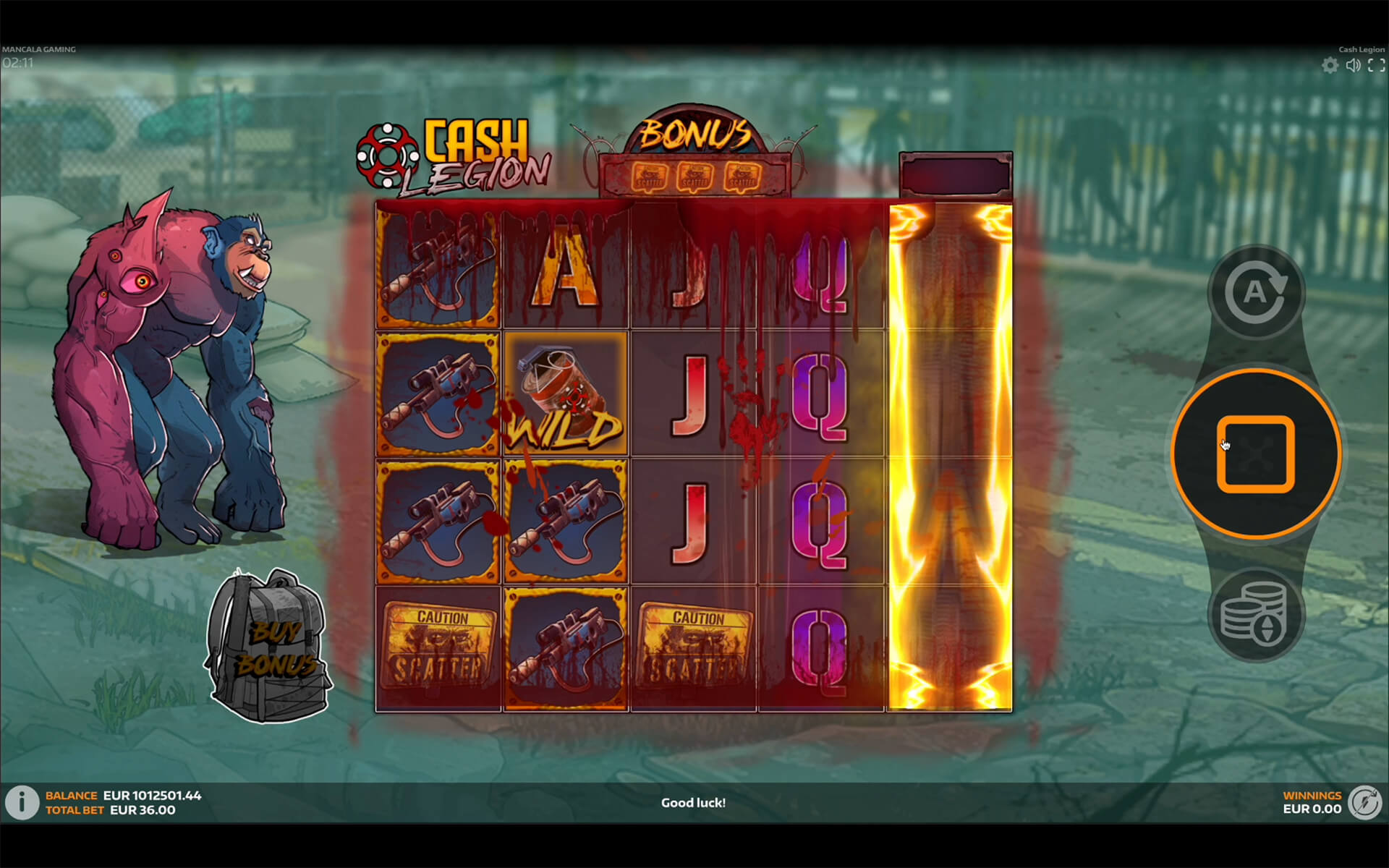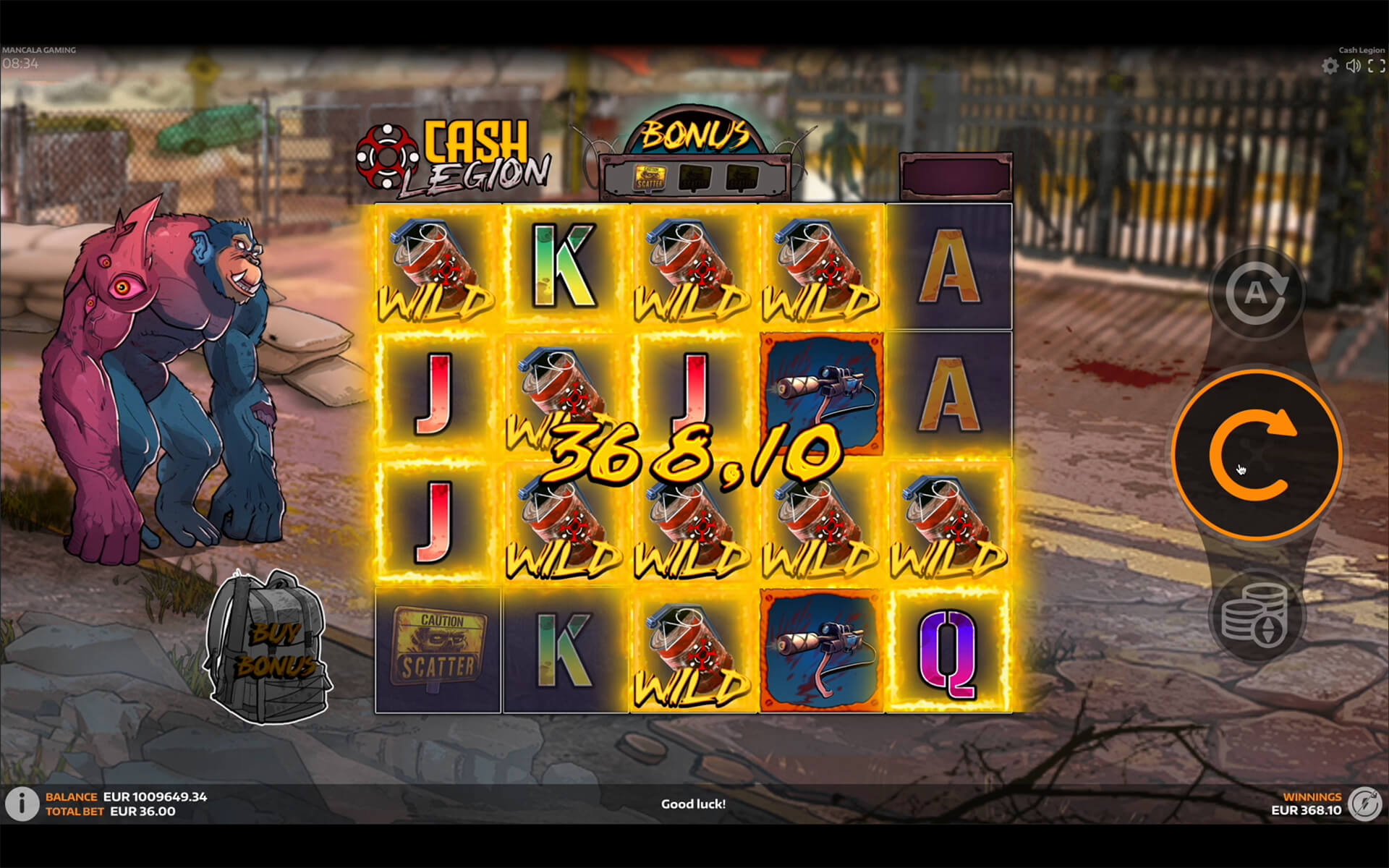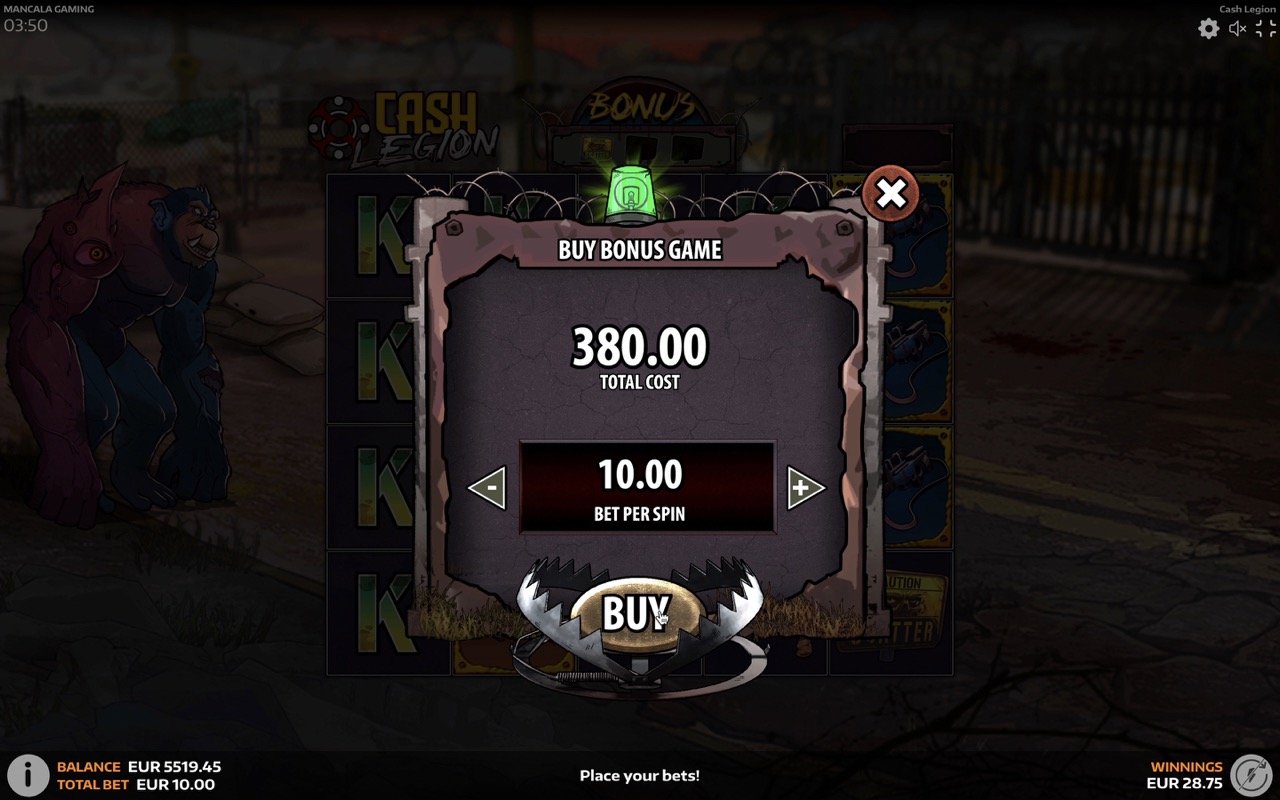 X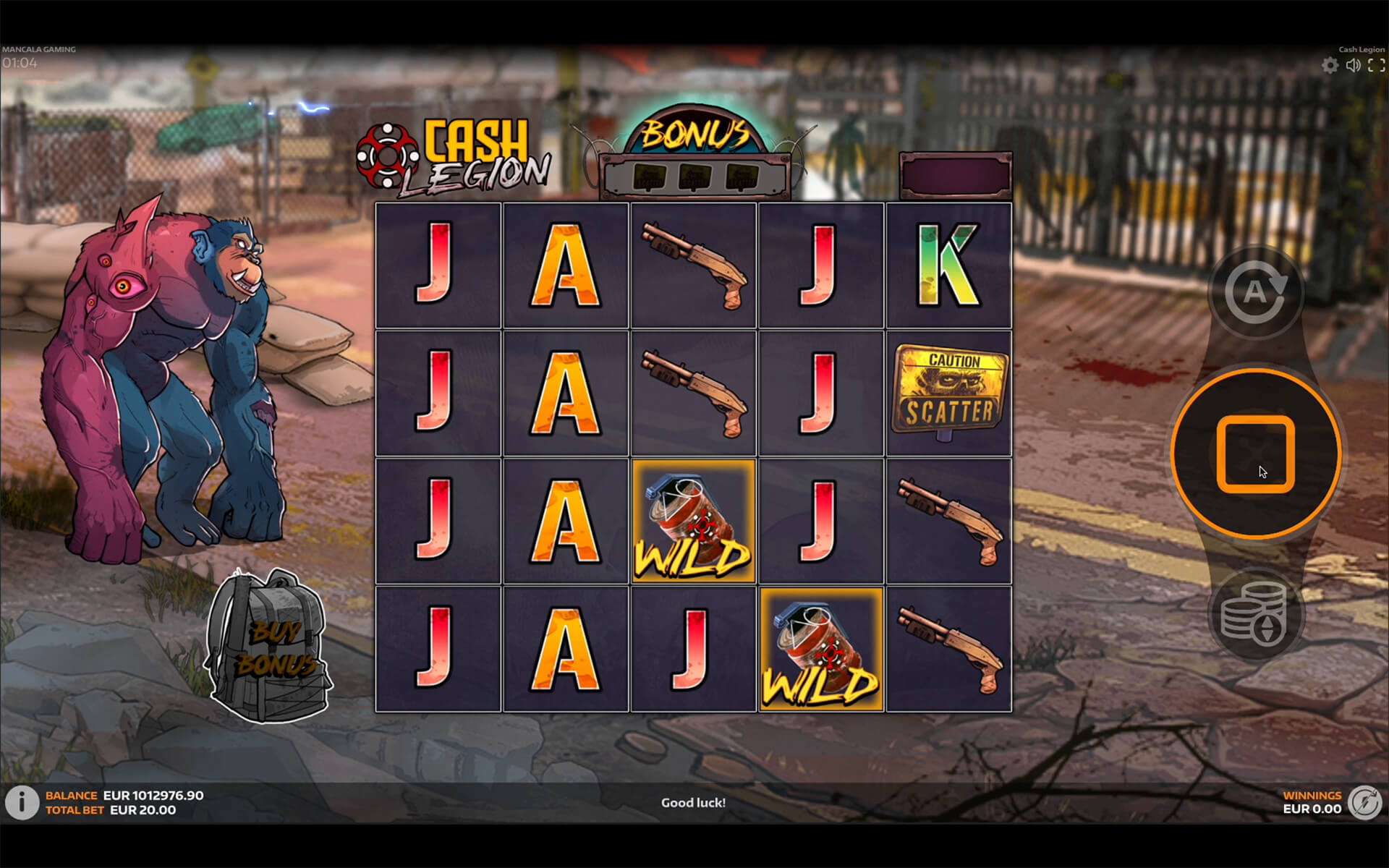 Cash Legion
Step into the shattered world of postapocalyptic dystopia, where chaos reigns after Mancala Corporation's deadly virus experiment. Necro Kong, a haunting symbol of their sins, roams the desolate lands. It's time for you to stand alongside Ember Fischer, leader of the Savers, and join forces with Whooper, Dante, and Ripley Foster to confront the zombie horde and restore hope. Amidst the ruins, redemption awaits those who dare to face the wasteland's odd creatures. Your mission is clear: unveil Mancala's secrets and rewrite history. But beware, for Necro Kong's path intertwines with yours, holding the key to either salvation or devastation. In Cash Legion, your choices shape the destiny of this shattered realm. Will you unravel the plague's enigma, bring justice to Mancala, and rebuild a new world? The time has come to make your mark in this story-driven adventure of survival and redemption!
Cash Legion is a 40 fixed-line slot game that pays left to right. The Base game is played on a 4x5 game grid. May expand to 4x7 in the Bonus game.
Among the symbols spinning on the reels, you will find 9 regular symbols, such as zombies, our heroic saviors, plus Scatter and Wild, Mystery Box and Expanding Wild, that will help you win big!
Wild Symbol
During the base game, the wild symbols substitute all symbols except for scatter and special symbols. There are two types of Wild symbols that substitute for any symbol except Scatter symbol. First is a regular 1x1 symbol. The second one is expanding from 1x1 to 1x4 and also triggers Respins.
x5 Bet
x4 Bet
x3 Bet
Moving Wild Feature
During the base game special Expanding symbol may appear on any reel and position. After landing it transforms to 1x4 size and starts to move to the left side of the screen acting like a Wild symbol. More than one Expanding symbol may appear on the reels during the base game and respins.
Mystery Symbol Feature
During the base game and respins Mystery symbol may appear on the reels. It transforms into any other symbol except Scatter symbol. All Mystery symbols transform into one same symbol.
x5 Bet
x4 Bet
x3 Bet
Scatter Symbol
Scatter symbols can appear only on reels 1, 3 and 5 in base game or during Moving Wild Feature granting 3 Respins in Respins Feature.
Respin Feature
Once the Respin Feature starts three existing scatter symbols reveal a value which is displayed as a multiplier of bet and awards 3 respins. Every new symbol on the game grid will reset the spin counter back to 3. When there are no spins left, the player is awarded the sum of all visible multipliers. Symbols may have one of multipliers x1, x2, x3 at the beginning of Respin Feature.
Scatter symbol-which reveals a value as a multiplication of bet
Man- collects all the multiplication on the reels every spin. Doesn't collect its own multiplication. Multiplications stay on the reels.
Woman- reveals its own multiplication and adds it to every symbol every spin, but doesn't add a multiplier to itself.
Rebel- Splits random Scatters into two separate symbols and reveals a value as a multiplier of bet. Has his own multiplication. Every Scatter symbol can be split up to 2 times.
Dobermann- Reveals its own multiplier and adds it to every symbol on the reels when appears, except itself.
Pitbull- Reveal its own multiplication and collect all multiplications from all symbols on the reels when appear, except itself.
Police- Reveals its own multiplier and opens an additional reel on the left or on the right when appears. Only two reels can be added.
Cleaner- Doesn't have its own multiplier; collects multipliers from every other symbols on the reels and removes them.
Buy-In Feature
There is the option to buy a Respin Feature for 38 Bets.
Number of lines selection:
No
MAX WIN(Based on 1 million games):
20000 x Bet
Special symbols:
Scatter, WILD, Money Box, Expanding Wild
Platforms:
Mobile, Desktop, Tablet
Language:
POR, FIN, THA, ENG, VIE, CHI, SPA, SWE, RUS, ITA, JPN, GER, UKR, KOR
Game reviews
Coming soon ...
Subscribe
Do you want to keep up to date with the latest news from Mancala gaming? Sign up for our newsletter and never miss any big thing!