Haunting cursed twins
Two can keep a secret, but can you? These twins are haunted by a terrifying curse that only the shadows understand. Are you brave enough to confront them and claim your reward?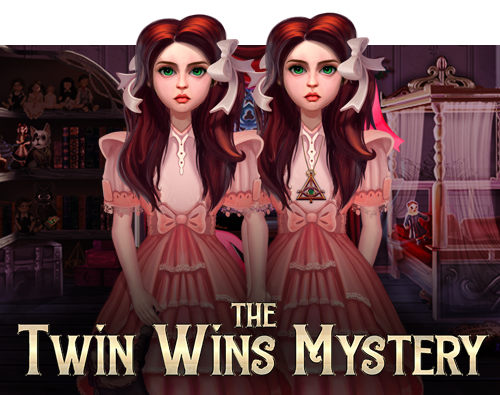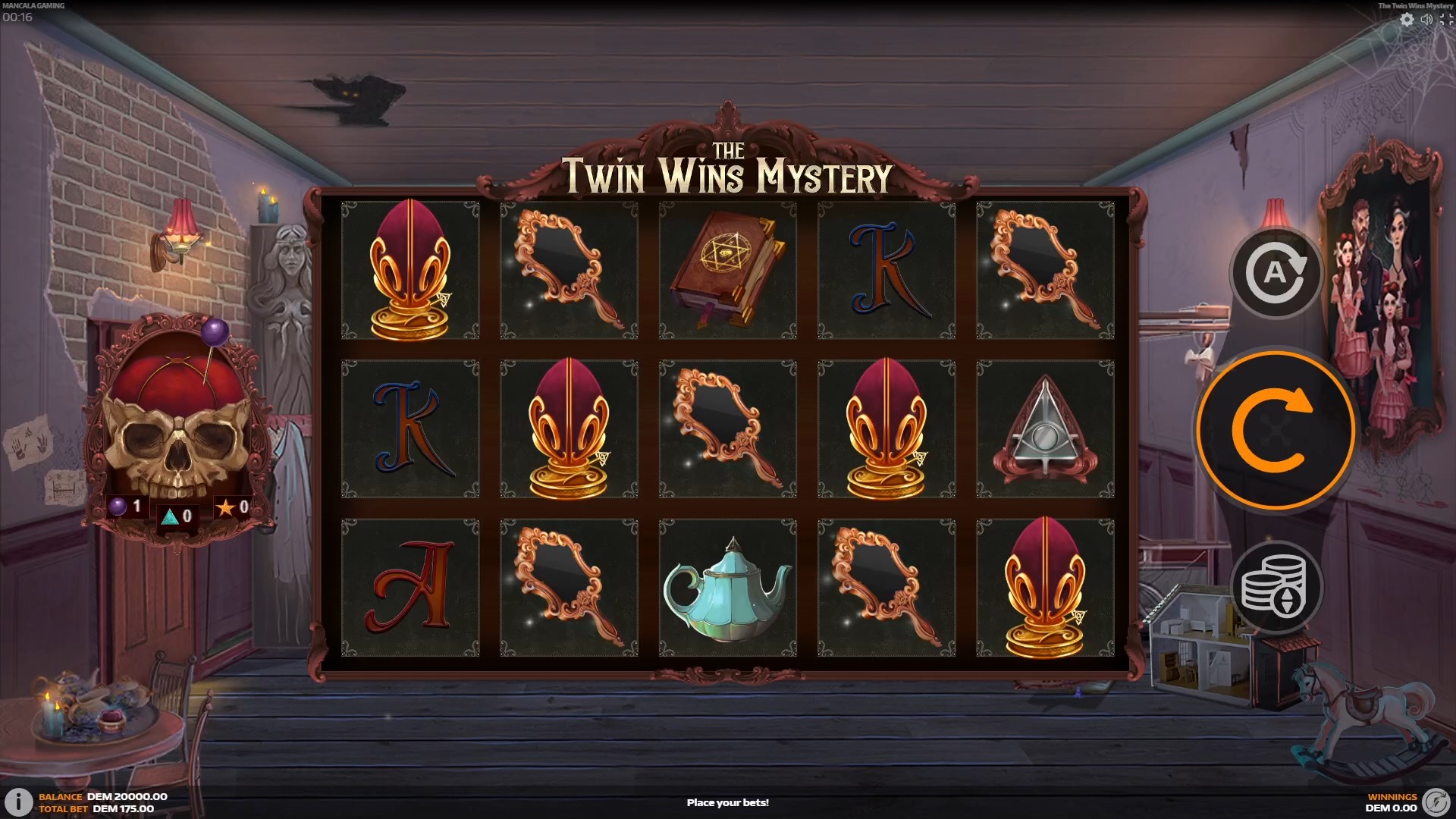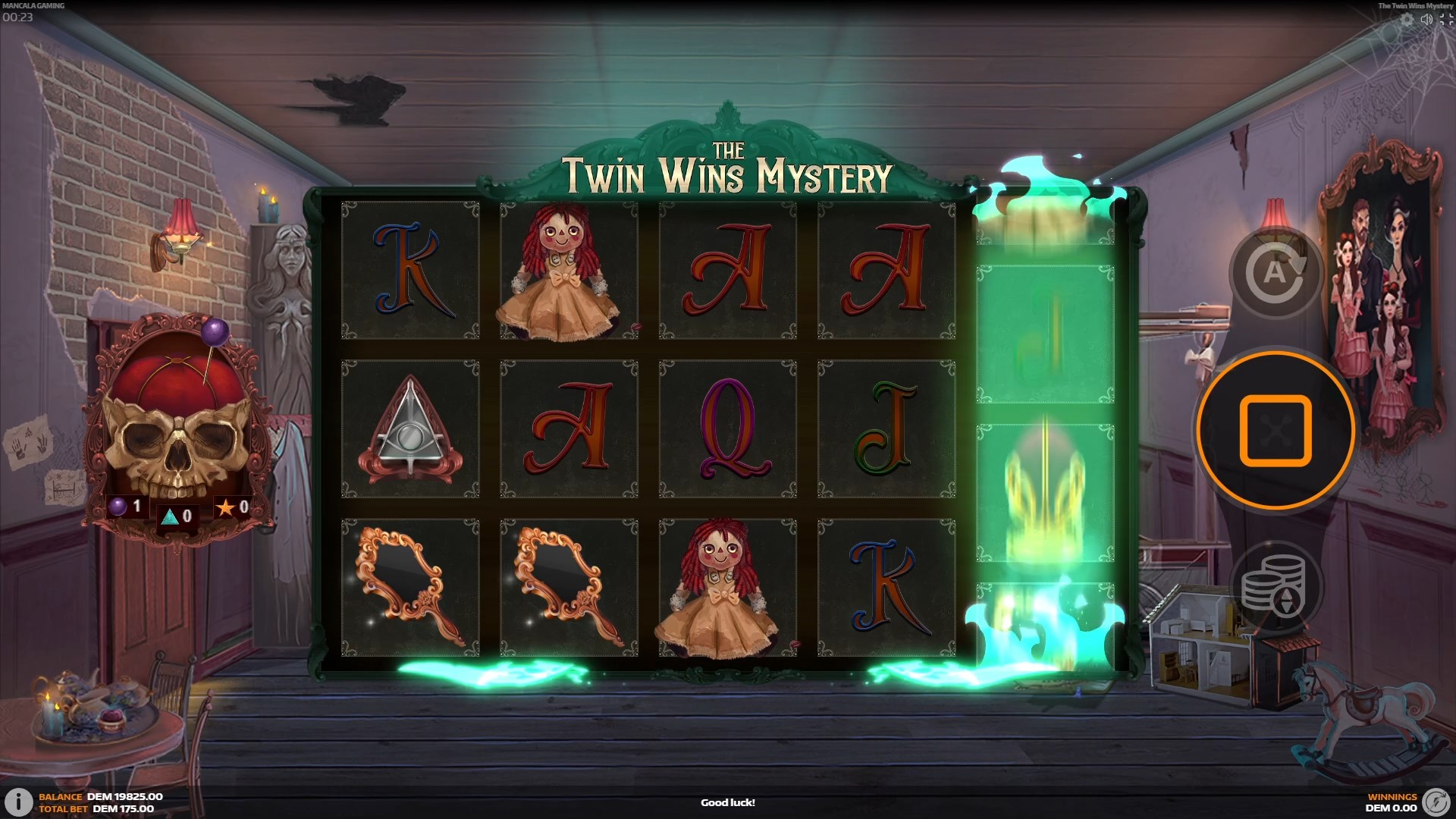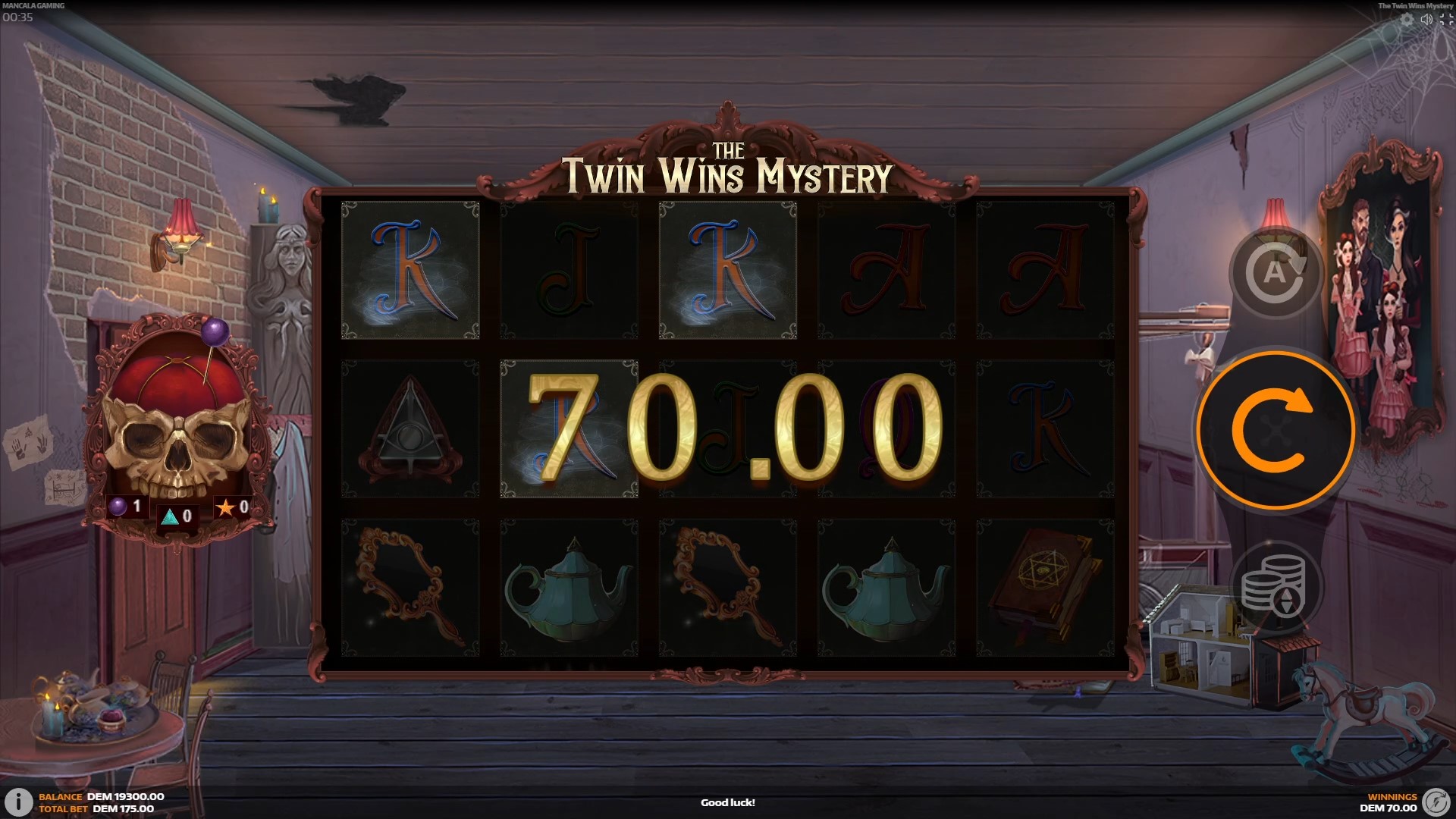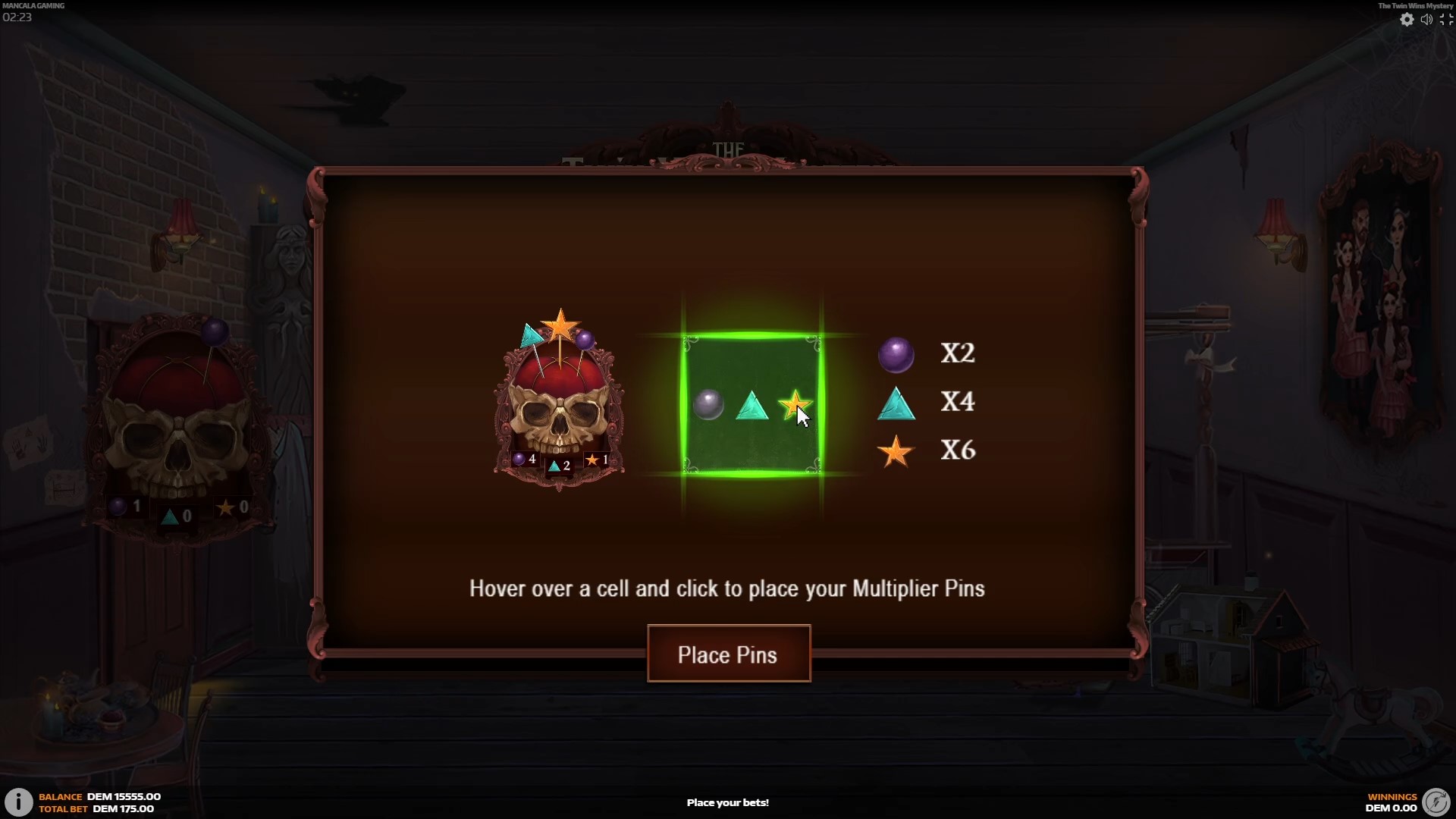 X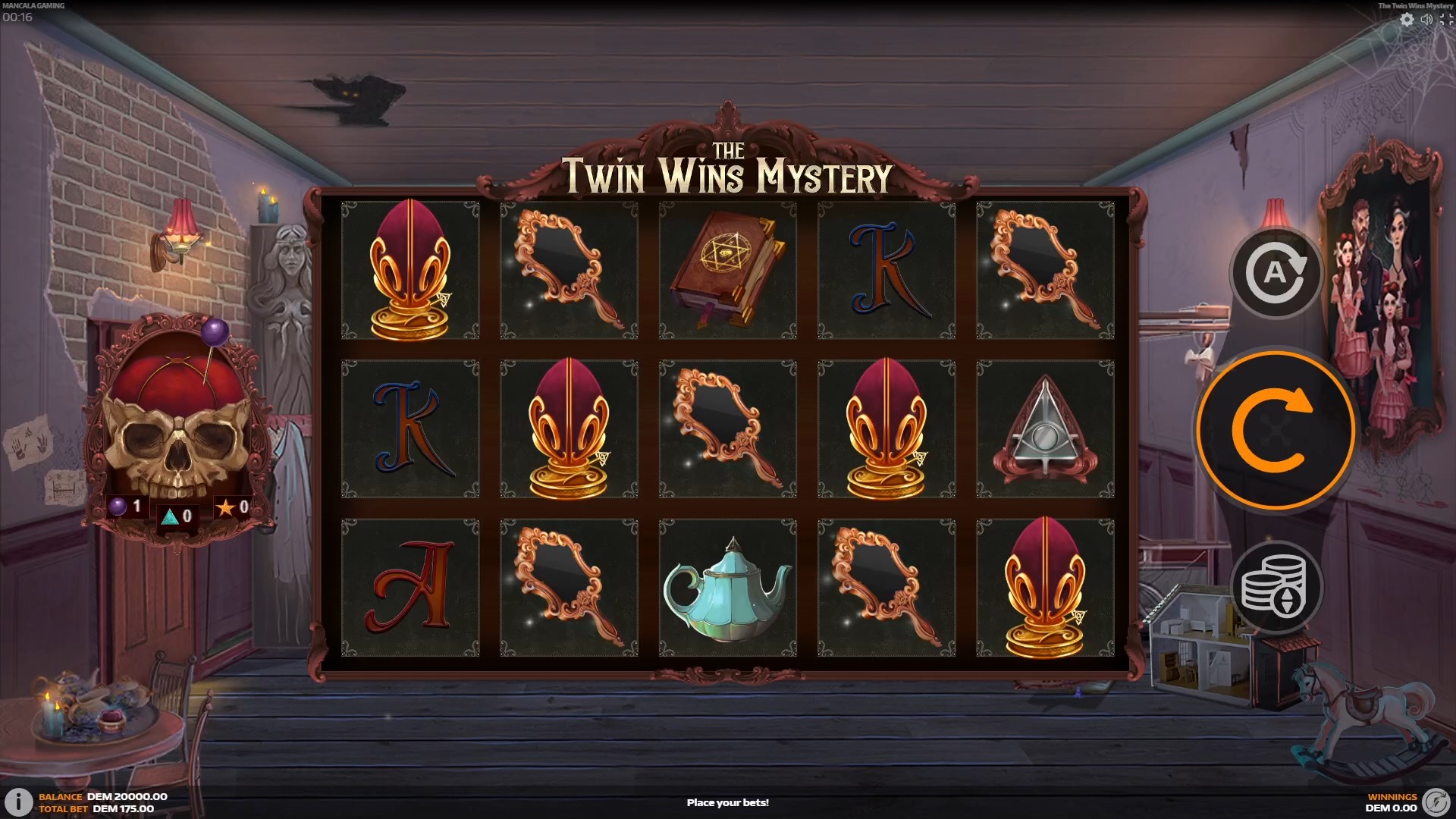 The Twin Wins Mystery
If the walls of this cursed mansion could speak, would they reveal the truth? Behind the ornate windows and intricate gates of this family home lies a haunting mystery. The once-happy family has been torn apart by a dark secret tied to the unsolved murder of Alfred Vale, who disappeared without a trace. The rumour has it that the murderer could be someone from the family itself.
Meredith and Aveline – the troubled twins, who often preferred the company of shadows of the manor and talked more to their invisible friends than to their mother. They are one of the suspects as well. Dare to enter their room and seek for evidence and don't let the unexpected horrifying screams discourage you. They can't be possessed by evil spirits, can they? 
Among the symbols spinning on the reels, you will find symbols such as Wild picturing the twins, a music box, a teapot, a planchette, a book, a mirror and many more. 
The Twin Wins Mystery is a 5-reel, 3-row and 25-line game featuring a Wild, Scatter, Multiplier pins, Free spins and cloned reels. The winning combination of symbols pays from left to right.
The Wild Twins symbol only appears on reels 1 and 2 in the base game and substitutes for all symbols except the Scatter Ragdoll. It can also randomly award special Multiplier Pins that are collected and used in the free spins feature when triggered. Multiplier pins are collected off to the side of the reels in a special pincushion skull.
The Wild Twins Giant symbol only appears during the free spins feature game as a single, giant symbol across the cloned reels 1 and 2. Whenever the symbol is only partially shown, it will snap into place to reveal the entire symbol. It will substitute for all symbols except the Ragdoll multiplier which appears only if the Wild Twins giant symbol is first present. It does not award additional Multiplier Pins.
The Scatter Ragdoll is a non-paying scatter symbol in the base game which can trigger the free spins feature. Three, four, or five appearing anywhere in a base game spin will trigger 10, 40, or 100 free spins respectively. During the free spins feature, the Ragdoll will change from a scatter symbol to a single, non-paying special Voodoo Doll symbol that appears only if the Wild Twins giant symbol is first present on reels 1 and 2. After any initial line wins are paid, It will spin by on its own reels which overlay reels 3, 4, and 5. If the doll lands on top of a symbol where a pin or pins have been placed, it will multiply any line wins through that symbol space by the total multiplier amount pinned to that space.
Multiplier Pins are randomly awarded from the Wild symbol in the base game and can be either x2, x4, or x6. They continue to be collected until the free spins feature is triggered by three Scatter Dolls. 
The Free Spins feature is triggered from three, four, or five Scatter Ragdolls appearing in a base game spin. Once triggered and before free spins can begin, the player must first place any and all Multiplier Pins collected from the base game on to any of the nine symbol spaces on reels 3, 4, or 5. It is up to the player to choose which pins they want to place on any symbol space and how many they wish to place there. More than one Pin can be placed in a single symbol space and the multiplier amount associated with a symbol space is cumulative in the case of multiple pins being placed there.
Free spins cannot commence until the last Multiplier Pin has been placed and the player has confirmed their choices. During any free spins, reels 1 and 2 are 'cloned', or identical, and will spin together. The Wild Twins giant symbol only ever appears across these two identical reels. Any time that Wild Twins appear in a spin they will snap into place if only partially shown. They will first substitute for any line wins and they will then trigger the appearance of the Voodoo Ragdoll over reels 3, 4, and 5.
Number of lines selection:
No
MAX WIN(Based on 1 million games):
5740 x Bet
Special symbols:
WILD, Scatter
Platforms:
Tablet, Desktop, Mobile
Language:
ENG, RUS, SPA, POR, SWE, CHI, ITA, FIN, UKR, JPN, THA, KOR, VIE, GER
Game reviews
Coming soon ...
Subscribe
Do you want to keep up to date with the latest news from Mancala gaming? Sign up for our newsletter and never miss any big thing!